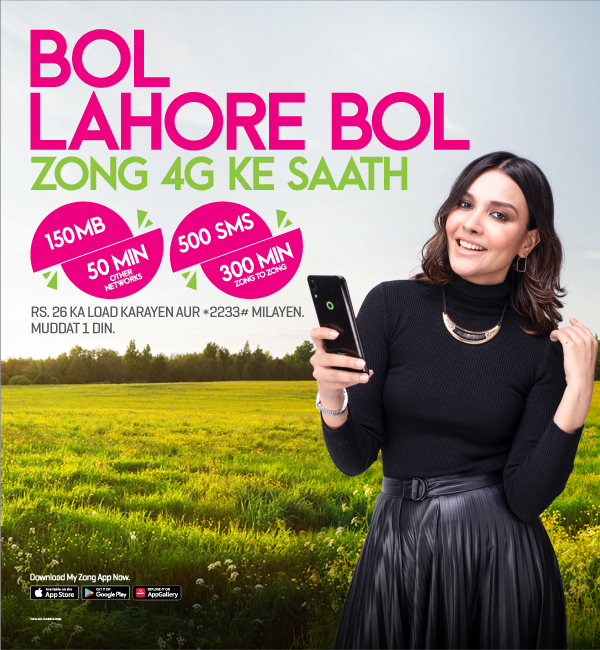 Bol Lahore Offer
26

Consumer Price

300

Zong Mins

50

Off-net Mins

150MB

Internet

500

SMS

Daily

Validity
Subscribe Now
Enter your mobile number below and subscribe online!
How To Subscribe
Just dial *2233# from your phone!
Terms And Conditions
Advance Income Tax (AIT) rate of 15% applies on every recharge.
Sales tax (GST) of 19.5% applies on usage (if applicable).
FED of 16% applies on usage ( where applicable).
No Call set-up charges apply.
Disclaimer
This offer is available in Lahore only
FAQ
Q.How can I check usage details?

A.By dialing *102# (Charges 10 Paisa+Tax per inquiry)

Q.Will the Offer be automatically renewed?

A.Yes

Q.Does this offer have resource-rollover?

A.No

Q. Is there any download limit on this offer?

A. Customers can download as much as they want within the 75 MB volume in a day.

Q. Can I subscribe to DTO & GNO along with this offer?

A.Yes, it can be subscribed with all bundles

Q.What are the charges after 150MB mobile internet volume is consumed?

A.Re. 1+Tax/MB out-of-bundle rate is applicable until bundle expiry after which customers will be moved to their respective base tariff

Q.Can the bundle be re-subscribed within bundle validity?

A.Customers will first have to unsubscribe the offer by sending "UNSUB LHR" to 6464. After that customers can re-subscribe the offer by dialing *2233#. The customer can also unsubscribe/subscribe to the offer from My Zong App.

Q.Will the customers be charged again if they subscribe to the bundle twice?

A.Yes

Q.If Customer has activated Bol Lahore offer and after that he moves out of the said city/area then will s/he be able to use free resources of this offer?

A.Yes it will work as per current area-based offers