IDD MAKE YOUR OWN BUNDLE
ZONG 4G vision towards Digital Transformation has emerged the need for modern solution to IDD Bundle Subscriptions. In past decade ZONG 4G has launched multiple IDD bundles and offers to cater market competition in International voice, but now ZONG 4G Prepaid & Postpaid Subscribers will be able to make their own IDD bundles by "IDD Make Your Own Bundle" which will be available via My Zong App for Improved Customer Experience.
Prepaid & Postpaid Subscribers

Destinations

Breakout

Rate/Minute

Validity

Minutes

Saudi Arabia

M (Mobily Network)

8

Prepaid: Daily, Weekly, Monthly

 

Postpaid: Monthly Only (On Bill Run)

Prepaid: 10, 25, 50, 100, 500

 

Postpaid: 25, 50, 100, 500

UAE

M (DU Network)

15

China

LL + M

2

UK

LL

7

USA/Canada

LL + M

1

Kuwait

LL + M

8

Australia

LL

3

India

LL + M

3

Germany

LL

2

Malaysia

LL + M

3

Hong Kong

LL + M

5

Bangladesh

LL + M

6

Ireland

LL + M

12

Oman

LL + M

19

Italy

LL

2

France

LL

4

Nigeria

LL + M

18

Thailand

LL + M

6

Singapore

LL + M

3

New Zealand

LL + M

10

Greece

LL + M

10
Step 1
Download My Zong App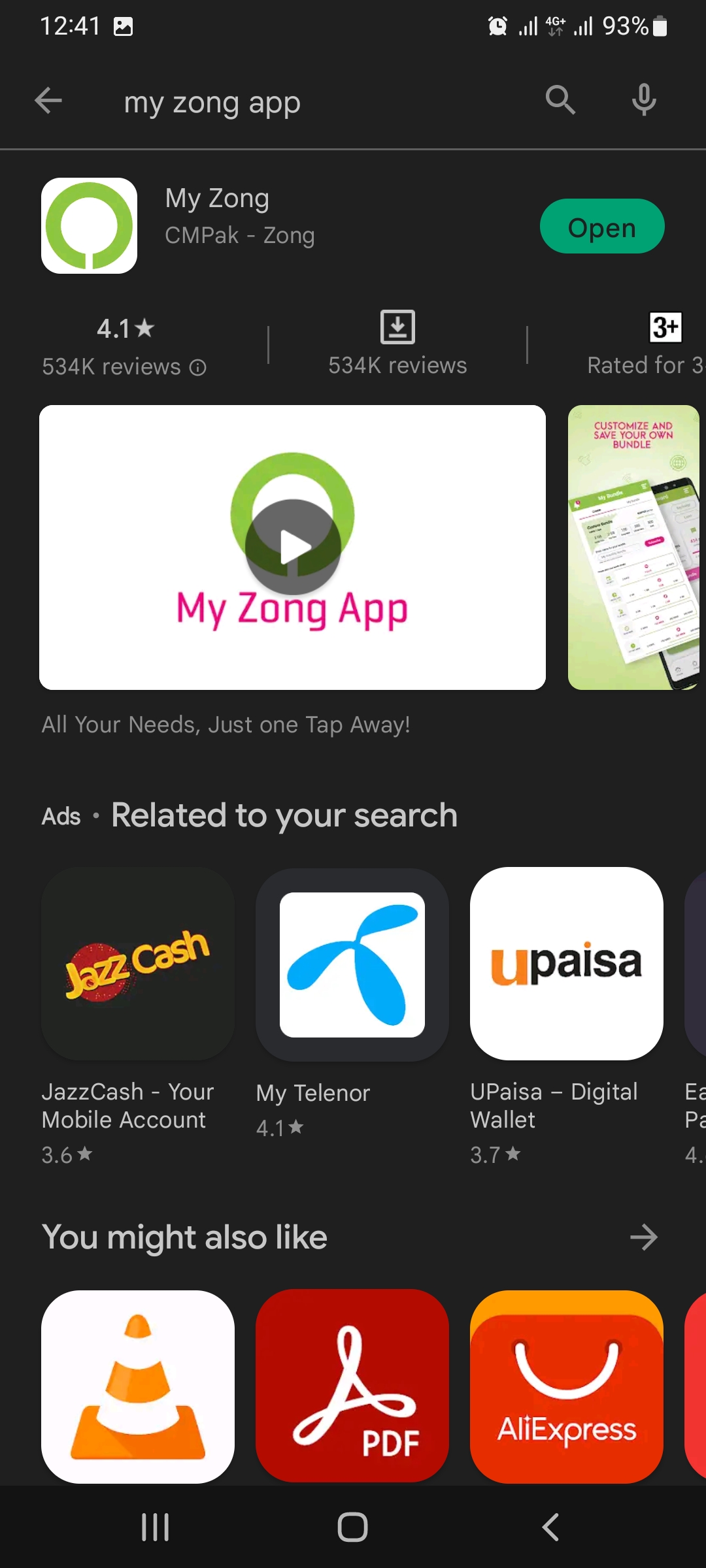 Step 2
Login to My Zong App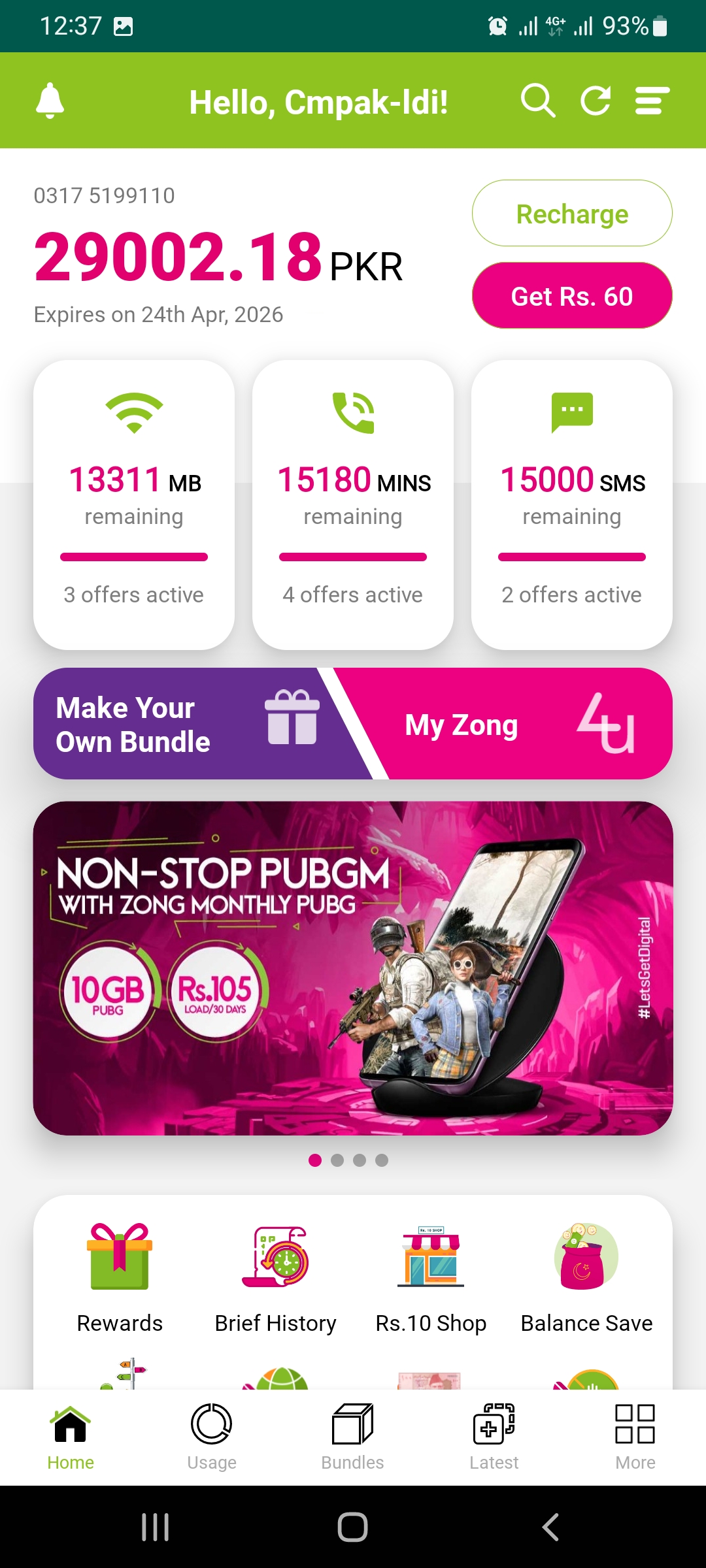 Step 3
Select More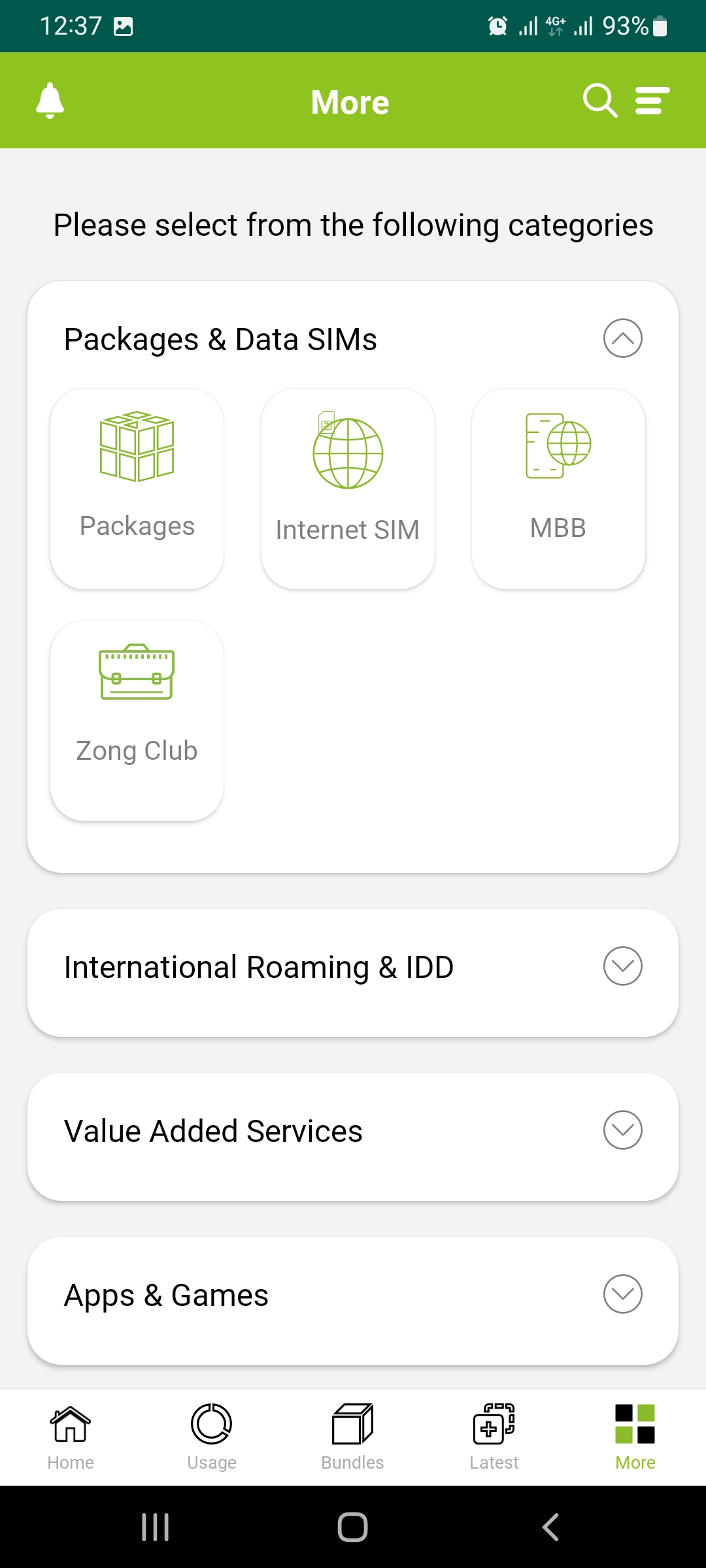 Step 4
Select International Roaming & IDD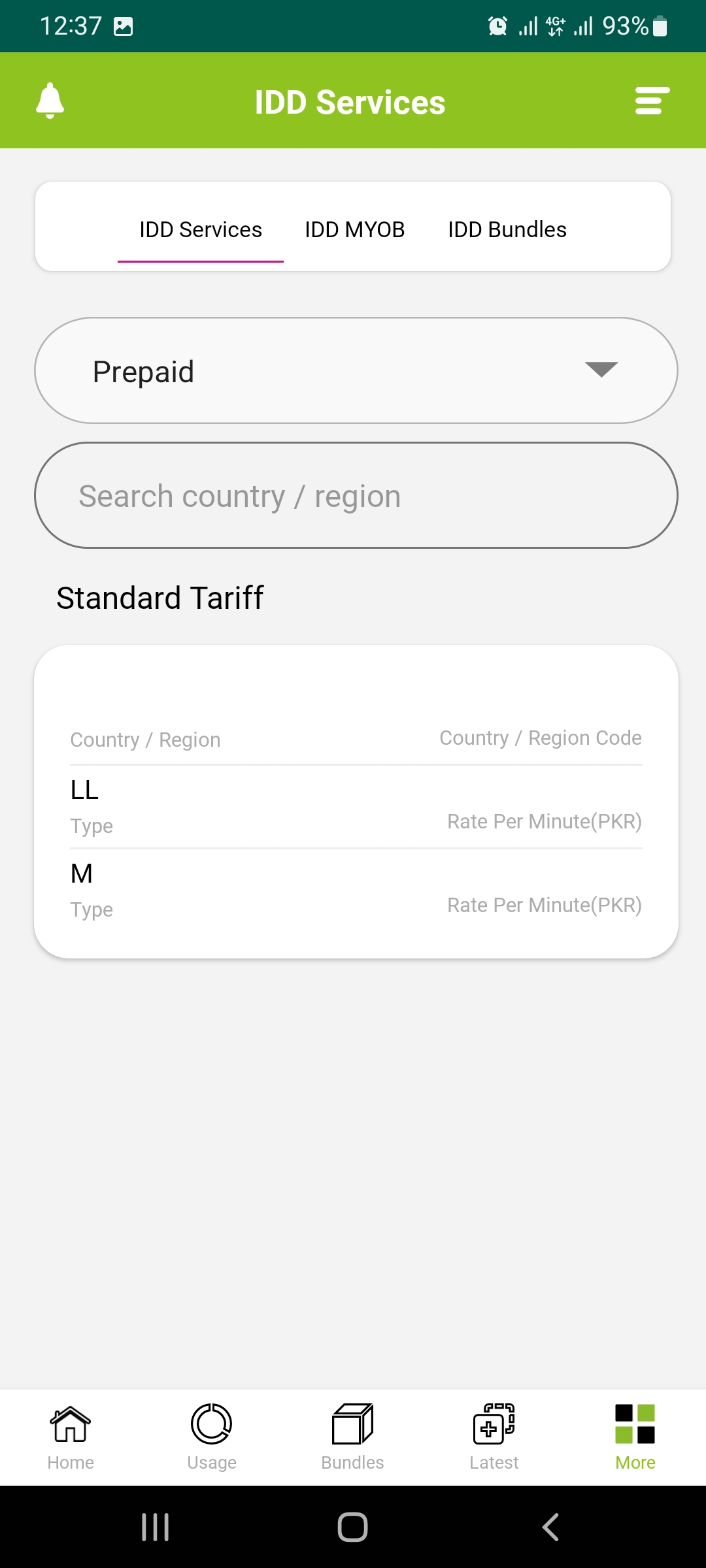 Step 5
Select IDD MYOB and Subscriber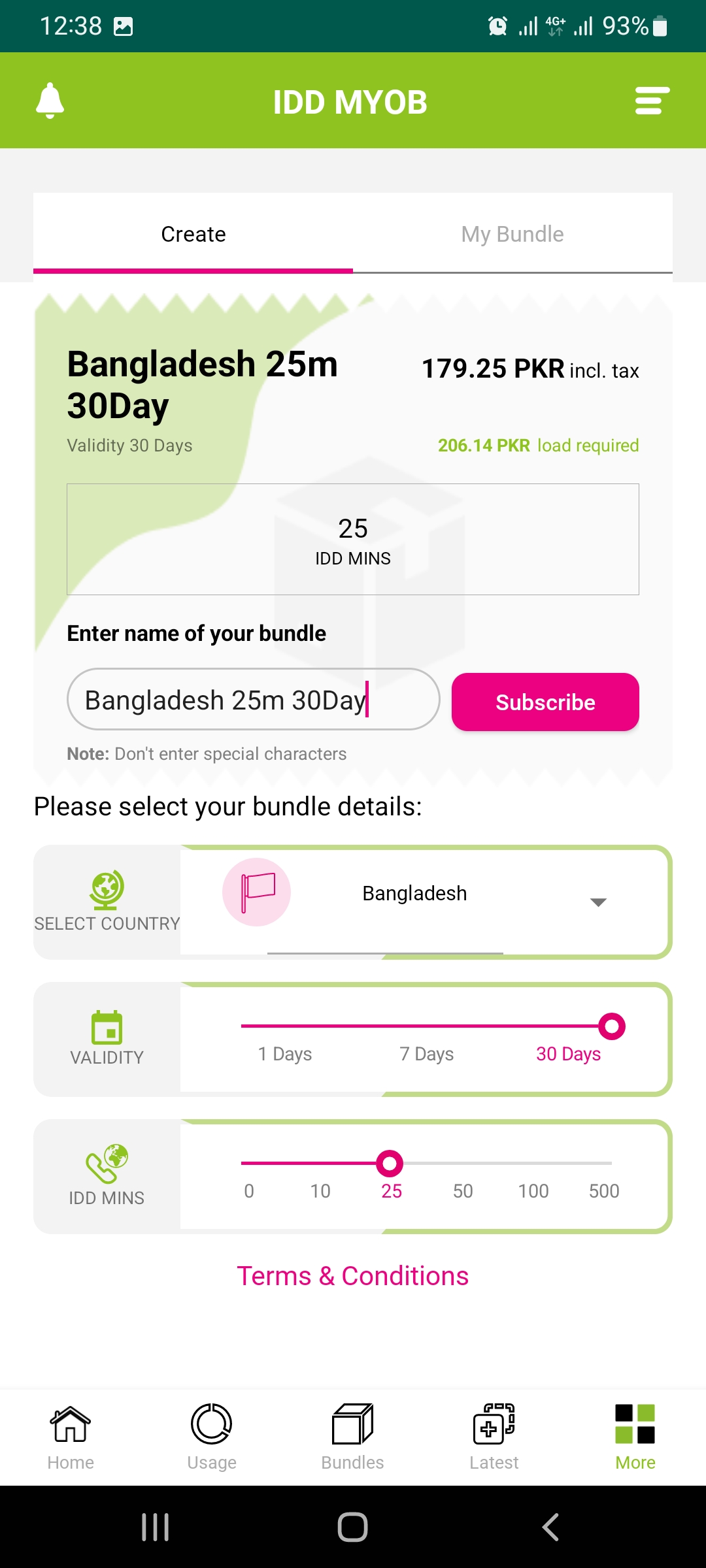 Terms & Conditions
IDD MYOB is available for all ZONG 4G prepaid & postpaid subscriber only through My Zong App.
The bundle cannot be unsubscribed. The bundle will automatically expire at validity completion or consumption of free minutes, whichever occurs first.
For Postpaid validity is on Bill Run only.
Conference call is not allowed with bundle subscribed through IDD MYOB
Minutes are available for the chosen destination only and cannot be used for any other destination.
For UAE, Offer is valid for DU network only.
For Saudi Arabia, offer is valid for Mobily Network only
Landline and Mobile (LL+M) Calls are eligible for: China, USA/Canada, Kuwait, India, Malaysia, Hong Kong, Bangladesh, Ireland, Oman, Nigeria,
Singapore, New Zealand, Greece & Thailand.
For UK Italy, France, Australia & Germany Offer is only applicable for Landline (LL) calls.
The bundle minutes will not be carried forward to next applicable bundle.
Bundles will be subscribed within 15 Minutes of activation command. Customer will receive an activation text with price calculation.
IDD MYOB multiple bundle subscription can be performed up to 5 times after which there is a wait period of 40 minutes to resubscribe new bundles.
All Bundle prices include FED & AIT which is visible at price calculation.
Visibility of bundle resources can be checked through MZA Usage tab or *102#
Customer can re-create the bundle after resources are fully consumed. Bundle will be override.