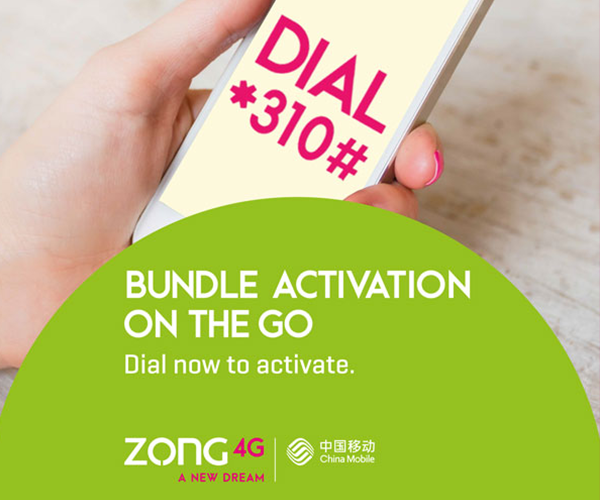 310 SMS CHANNEL
310 SMS Channel is a Self-Service Channel through which, not only you can fetch information of ZONG bundles, VAS, packages but easy activation/deactivation option is also available. You need to simply send a package name/keyword to 310 to get required information and for activation of Top Bundles, reply with "Y" to y leg SMS.
You can effortlessly access the required information through SMS without having to wait for the customer service representative. Now Zong customers have the freedom to acquire the required information whenever they desire without any hassles and prepaid, MBB & Internet SIM users can avail following features through this service:
Free of cost self-service SMS channel
Top Bundles
Easy access to Information of all ZONG bundles, packages, VAS and products
Easy Activation of ZONG Top Bundles
Data Bundles
SMS Bundles
Social Bundles
MBB & Internet SIM bundles
International bundles
Illaqai Offers
Internet Settings & APN Selection Information
Value Added Services (Dial Tune, MCA, Call & SMS Block Service)
Only keyword is required for desired SMS e.g. by sending "max" for "super weekly max", reply SMS will be received along with activation option
Separate SMS is received for activation and upon replying with "y" , activation can be done
FAQ
Q. What are the charges of this service

A.This SMS based service is free of cost

Q.Are there any charges to activate/deactivate any service?

A.SMS is free of cost, however standard charges of product will be charged

Q. What is a procedure of sending SMS to 310 SMS Channel?

A. You need to send package/service name or keyword to 310.

Example 1: If you want to get information or activate super weekly premium bundle. Send SMS to 310 by typing "super weekly premium" or "premium" . You will get desired information along with option of bundle activation.
Example 2: If you want to get internet settings, Type "settings" and send to 310
TERMS & CONDITIONS
Below mentioned Taxes/ Charges would be applicable:
Advance Income Tax (AIT) rate of 15% applies on every recharge.
FED of 19.5% applies on usage ( where applicable).
Sales tax (GST) of 19.5% applies on usage (if applicable).