Stay connected with Zong 4G's Iran Ziyarat Roaming Bundle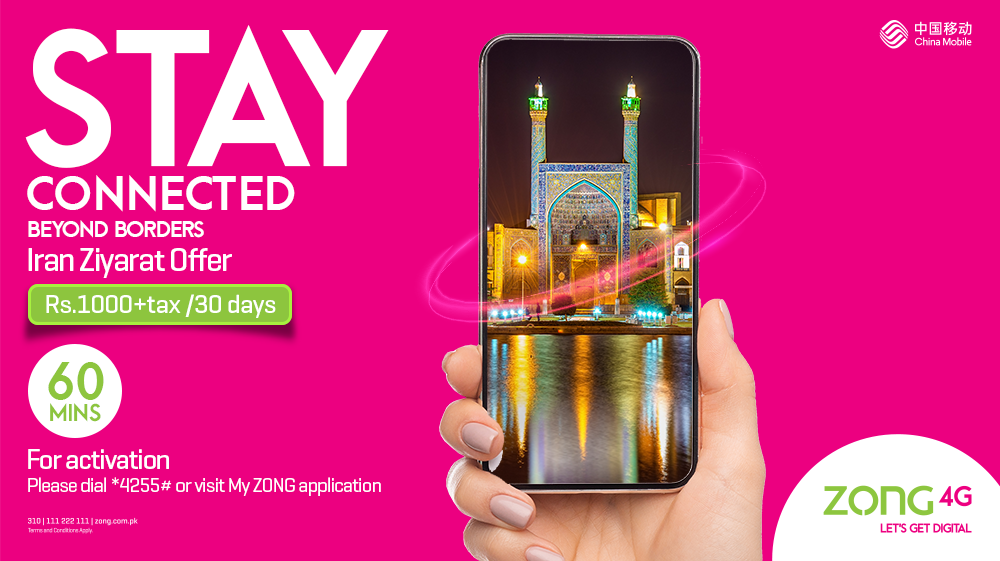 ISLAMABAD – 1ST August 2022: Pakistan's leading digital and telecommunication company, Zong 4G continues the streak of unbeatable international roaming bundle – Iran Ziyarat offer.
To facilitate the subscribers on their religious journey, the Iran Ziyarat bundle offers 60 minutes of airtime at PKR 1,000 + tax only for 30 days. To subscribe, Zong's prepaid customers can dial *4255# or visit the online store and MyZongApp.
"Our Iran Ziyrat bundle is a testament towards our customer-centric approach that will allow Pakistanis to stay in touch with their loved ones back at home. At Zong 4G, we are ensuring that we address the needs of our digitally-savvy customers as they travel for business, personal or religious reasons," said the spokesperson
The spokesperson added "We are committed to expand our roaming portfolio for our subscribers by offering more innovative products and services."
Zong's industry-leading international roaming plans have allowed Pakistanis to stay in touch with friends and family when travelling internationally. These bundles have been a major help to Pakistani travelers in cross-border communication, especially during the Covid-19 pandemic.
Prior to the Saudi Arabia bundles, Zong had launched industry-leading foreign roaming packages for Saudi Arabia, the United Arab Emirates, Turkey, and a number of other countries.
--------- End ---------
About CMPak:
China Mobile Pakistan (CMPak) is a 100% owned subsidiary of China Mobile Communications Corporation. The pioneering overseas set up of China Mobile came through the acquisition of a license from Millicom to operate a GSM network in Pakistan. CMPak engages in the provision of cellular mobile voice and data services to the Pakistani market through 2G, 3G, and 4G technologies.
CMPak envisions to enable a fully connected environment for Pakistanis by leveraging the technological edge in 4G LTE, whilst providing the most reliable and affordable products in the market. On the technological front, CMPak draws heavily from the research and experience of China Mobile Communications Corporation, which is the largest telecom service provider in the world, thus enabling cutting edge, state-of-the art services to subscribers.
These high standards of performance are testified by the service award of "No.1 Operator in voice and data services" by the Pakistan Telecommunications Authority.
CMPak has the largest 4G subscriber base and the widest 4G coverage across the length and breadth of the country. The unprecedented level of coverage and 4G connectivity provided by CMPak is a testament of our commitment to providing stable, affordable, and reliable services to our customers.
In the coming years, CMPak aims to further uplift the coverage and service quality in order to maintain and improve the outstanding data experience for the users. We believe that digitization is a catalyst for economic growth and we will continue to enable it by leading the data services market of Pakistan.
For Further Information
Usman Suhail
Senior Manager PR
LatitudeCRS
Phone: +923331412496
Email: usma[email protected]