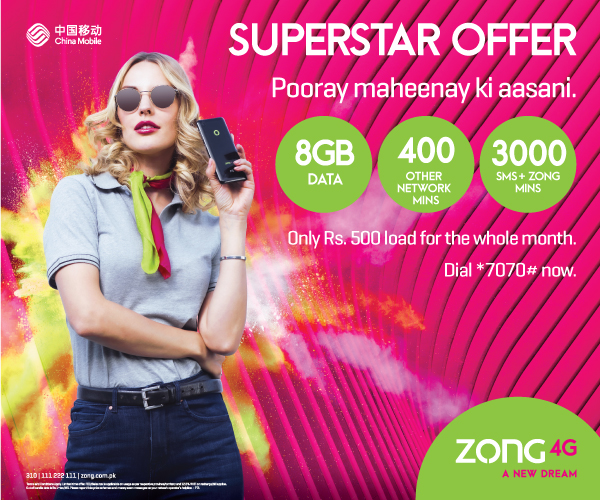 Super Star Offer
500

Consumer Price

8GB

Internet

400

Off-net Mins

3000

Zong Mins

Monthly

Validity
Subscribe Now
Enter your mobile number below and subscribe online!
How To Subscribe
Just dial *7070# from your phone!
Terms & Conditions
Below mentioned Taxes/ Charges would be applicable:
Advance Income Tax (AIT) rate of 12.5% applies on every recharge
Sales tax (GST) of 19.5% on usage applies
No Call set-up charges apply.
Eligible Areas
This offer is available in following cities
Vehrari
Burewala
Hasilpur
Malsi
RYK
Sadiqabad
Khanewal
Abdulhakim
Kabirwala
Faisalabad
Sargodha
FAQ
Q.How can I check usage details?

A. By dialing *102# (Charges 10 Paisa+Tax per inquiry)

Q. Will the offer be automatically renewed?

A. No

Q. Does this offer have resource-rollover?

A. Yes

Q. Is there any download limit on this offer?

A. Customers can download as much as they want within the 8GB volume till expiry.

Q. Can I subscribe to DTO & GNO along with this offer?

A. Yes, it can be subscribed with all bundles.

Q. What are the charges after 8GB mobile internet volume is consumed?

A. Rs. 1+Tax/MB out-of-bundle rate is applicable until bundle expiry after which customers will be moved to their respective base tariff

Q.Can the bundle be re-subscribed within bundle validity?

A.Customers will first have to unsubscribe the offer by sending "UNSUB MHO" to 6464. After that customers can re-subscribe the offer by dialing *7070#. The customer can also unsubscribe/subscribe to the offer from My Zong App.

Q. If Customer has activated Super Star offer and after that he moves out of the said city/area then will s/he be able to use free resources of this offer?

A. Yes it will work as per current area based offers