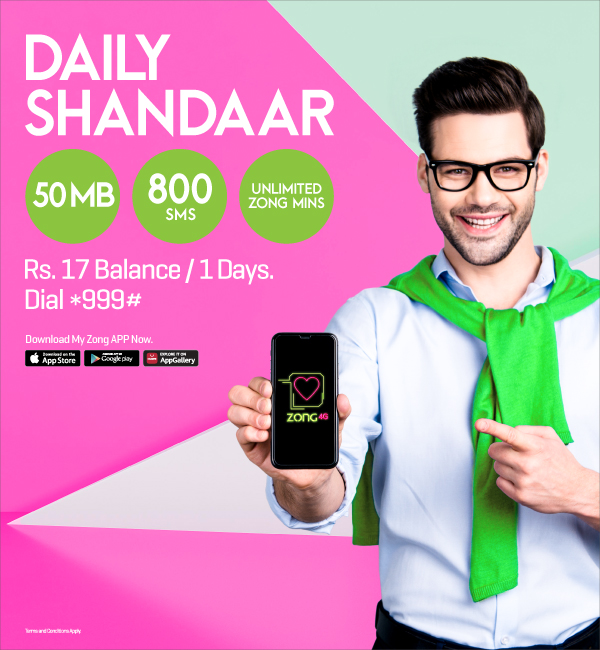 Shandaar Daily Offer
17.00

+Tax

50MB

Internet

Unlimited

Zong Mins

800

SMS

Daily

Validity
With Shandaar daily offer, make unlimited calls to all Zong numbers, send 800 SMS to all local mobile networks and browse 50 MB Mobile Internet – all this at Rs. 17 per day. 
Subscribe Now
Enter your mobile number below and subscribe online!
How to subscribe?
Just dial *999#
Or, write "PAK" and send to 5225
Terms and Conditions
Subscription is valid for one calendar day. The offer will not be auto-recursive and will expire at midnight
Call set up of PKR 0.15 will be applicable on every call
This offer is for prepaid customers only
FAQ
Q. What are the charges for off-net calls during subscription and on-net calls after bundle expires?

A. As per customer package plan.

Q. Are there any call set up charges?

A. Yes. PKR 0.15 call set up charges are applicable

Q. Can a customer make conference calls, when subscribed to these bundles?

A. No

Q. Can a customer make collect calls and call forwarding when subscribed to this bundle?

A. Yes. As per normal charges

Q. What will happen, if customer already subscribed to voice, SMS & data bundles?

A. This offer will be subscribed in parallel and resources of This offer will be utilized first except Student Bundle, Mehran offer and , Circle FNF and Weekly Hybrid Punjab .